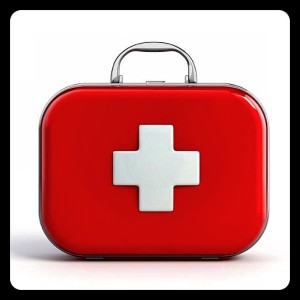 The Ladies talk about apps you can reference in an emergency.
Download the show here
RSS Feed for your podcast app
Subscribe in iTunes
Links
First Aid App for Android and iPhone
Pet First Aid
Everyday First Aid
iTriage
Repair Pal: Auto Repair Expert
Pocket First Aid and CPR from the American Heart Association
Army First Aid
wikiHow
Emergency First Aid & Treatment Guide
Alpha First Aid
Wilderness First Aid
Staying Alive 3D
WebMd for iPad
Also remember you can download apps from most insurance companies in case you get into an accident. Gives step by step directions on how to take photos of the scene, info to get from the other parties involved in the accident, if any, how to file the claim.
Altoids First Aid Kit:
Empty Altoids Tin
3-4 cloth bandaids
3-4 alcohol wipes
3-4 Q-tips
3-4 3"x3" gauze pads
Small packets or tube of Triple Antibiotic Ointment
2 plastic ampules of normal saline
small envelope of : 4 aspirin or extra strength aspirin, 2-3 ibuprofen, Immodium (anti-diarrheal), antiacid tabs, Pepto Bismol tabs, 2-3 Tylenol tabs
miniature knife with scissors implement
2-3 rubber bands to wrap around the packed tin and can be used to hold a dressing in place
having two bandanas or a large scarf on hand for a possible sling for a broken limb is a good addition to a backpack or glove compartment along with a small bottle of sunscreen and insect repellent
Leave a review and/or rating in iTunes. We would really appreciate it! And join our
Facebook group
3 Geeky Ladies G+ Community
Contact Us
3geekyladies@gmail.com
twitter.com/geekyladies
vestokes at gmail dot com
twitter.com/vestokes
suzegilbert at gmail dot com
twitter.com/suzegilbert
senseidai at gmail dot com
twitter.com/senseidai
3 Geeky Ladies logo designed by Donny Yankellow