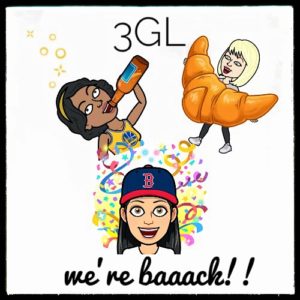 The Ladies are back after a 4 month hiatus. Suzé talks about hiking in France, she and Vicki discuss their favorite wines, and Elisa is going to more concerts and Red Sox games!
Download the show here
RSS Feed for your podcast app
Subscribe in iTunes
Links
Grand Randonnées France
Wine Folly-for listeners that have questions about wine
Instant Pot- Amazon $99.99 at present time
Walmart $49.99 at present time
Instant Pot recipes:
This Old Gal
IP Foodie
Instantly French!:Classic French Recipes for Your Electric Pressure Cooker by Ann Mah (Kindle and Print) To Be Released 9/25/18, available for pre-order
Libby by Overdrive Free library app
Film: Leave No Trace-filmed in Oregon and my Park ranger friend Victor has a cameo. Wonderful film by Debra Granik (Winter's Bone) based on the book My Abandonment by Peter Rock.
Leave a review and/or rating in iTunes. We would really appreciate it! And join our
Facebook group
3 Geeky Ladies G+ Community
Contact Us
3geekyladies@gmail.com
twitter.com/geekyladies
vestokes at gmail dot com
twitter.com/vestokes
suzegilbert at gmail dot com
twitter.com/suzegilbert
senseidai at gmail dot com
twitter.com/senseidai
3 Geeky Ladies logo designed by Donny