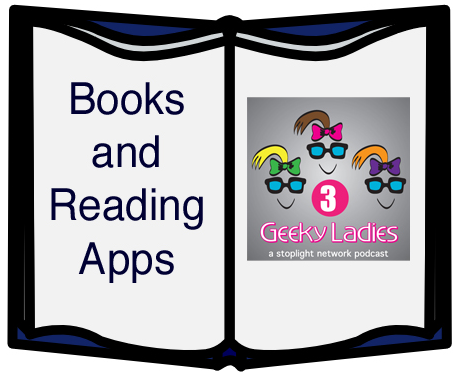 Download the show here
Subscribe in iTunes
The Ladies talk about various reading apps for books and magazines on the iPad, and compare it to reading on the Kindle and Kindle Fire. Sorry for the sound quality in the second half; the Skype gods attacked Suze´once again.
Shameless self promotion
Donny Yankellow's new book on iTunes store Looking For A Dinosaur $.99
Preschool-grade 2. Need iBooks 1.2 or later to read. On sale for $.99 for a limited time.
Shane Pacelli The Teacher That Didn't Teach $.99 Kindle ebook. Cover by Donny
Shane's latest book, The Teacher That Taught Too Much was just released yesterday as a paperback. eBook should be available sometime in October
Leave a review and/or rating in iTunes. We would really appreciate it. And join our Facebook group at www.Facebook.com/3geekyladies
Links:
Yellow Submarine – The Beatles. FREE in iBooks 
Bluefire Reader by Bluefire Productions FREE
CampusBooks for iPad by CampusBooks.com Inc. FREE
IDW Comics by IDW Publishing FREE
Zinio by Zinio LLC FREE
The Fantastic Flying Books of Mr. Morris Lessmore by Moonbot Studios, LLC  iPad only $4.99
Nighty Night! HD by Gmb, iPad Only On Sale in AppStore, Free, Regular Price $2.99
Nook App by Barnes and Nobles, Compatible with iPhone, iPod, and iPad, Free **not recommended by Suzé for art or photography books as app is not graphically optimized for iDevices.
Newsstand Bundled with iOS
Stanza by Lexcycle, Compatible with iPhone, iPod, and iPad, Free
WE HAVE A CONTEST!! Win a copy of WritePDF, an iPad app graciously donated by EuroSmartz. Leave a comment on our web page about why you want this app. Or give us a show suggestion. Or just say hi. We'll announce the winner on the next podcast.
Follow us on Facebook or Twitter
Contact Us
3geekyladies@gmail.com
twitter.com/geekyladies
vestokes at gmail dot com
twitter.com/vestokes
suzegilbert at gmail dot com
twitter.com/suzegilbert
senseidai at gmail dot com
twitter.com/senseidai